If you are planning on taking the Pharmacy College Admission Test within the year…
NEWS FLASH! Registration for the 2016 – 2017 PCAT Test Dates is OPEN!
Below are the important deadlines for the July and September testing dates.
Remember that seats are first come first serve so it's best to act quickly and avoid the late fees!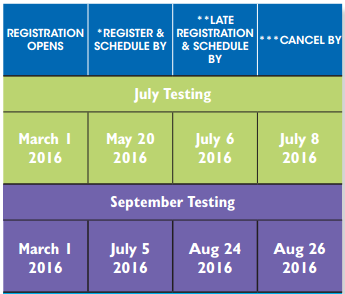 Note: Registration for the January 4-5th test window is also open but the deadline for it isn't until Nov 4th. Registration for the October/November testing window opens Sept 9th.
The PCAT Registration Two Step:
Registering for the PCAT
Keep in mind when registering you need to know the schools you want your scores to be sent to, so figure it out beforehand. Step one: go to the PCAT website and create an account here; that's your PCAT CID. With that log in you're in the system and can do stuff like send official score transcripts, etc. Only after you a receive registration confirmation email saying that your payment was received can you then schedule to take the test…
Scheduling a test date
Got that registration confirmation email? Now schedule ASAP! The PCAT is a computer-based test conducted at Pearson VUE Test Centers and dates and test centers can fill up fast. If this is your first time taking the PCAT you'll need to create a log in with Pearson VUE and keep your PCAT CID (your PCAT registration log in) handy, you'll need it. If you have a log in with Pearson VUE already, sign in and schedule away!
$ Cost of Taking the PCAT $
When you register to take the PCAT the fee is $210 and this includes sending official scores to up to three schools. If you want to send scores to any more schools it's $20 each. If you haven't realized it yet, deadlines are a big deal and the late registration fee is an additional $49.
What's on the PCAT?
Below is the NEW PCAT Blueprint laying out test day: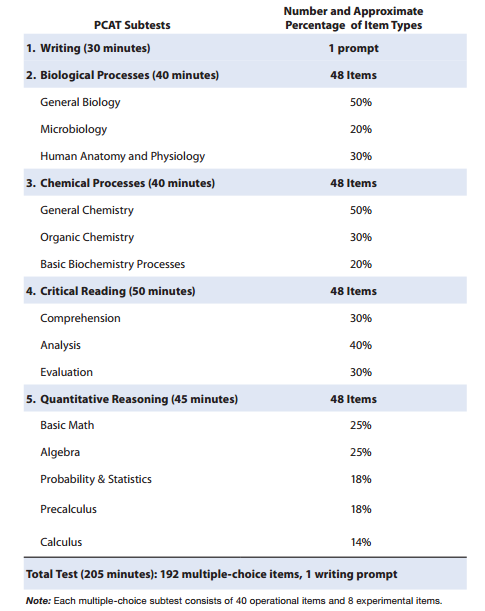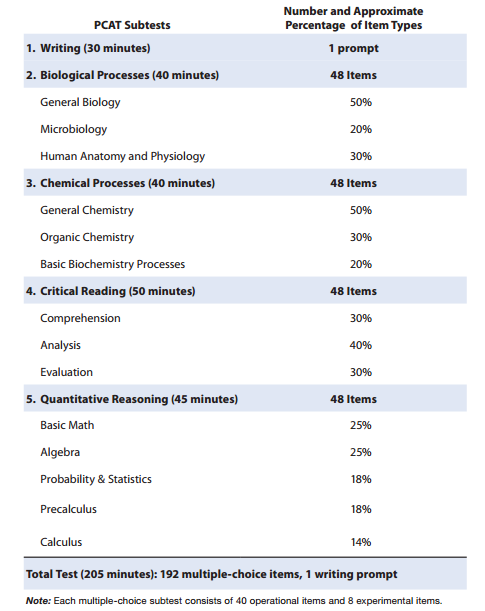 Last year on the blog we did a PCAT Breakdown Series and since then the test has changed. While I work on updating each section breakdown you can refer older ones as a loose guidance to the new ones…
PCAT Breakdown: Writing Section!
PCAT Breakdown: Biology Section!
PCAT Breakdown: Chemistry Section!
PCAT Breakdown: Reading Comprehension Section!
PCAT Breakdown: Quantitative Ability Section!
What Next?
Here are other helpful past blog posts on tackling the PCAT:
That's all for now! Remember we'll have new and improved PCAT Section Breakdowns rolling in soon and until then stick with PCAT Cracker to PRACTICE PRACTICE PRACTICE!